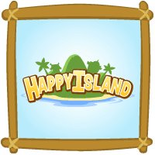 Welcome to the Happy Island
An encyclopedia about the Facebook game Happy Island. Please help us to write a good encyclopedia! The game and official updates can be found right on the Happy Island Fan Page - http://www.facebook.com/happyislandgamethe website:http://www.happyislandtoy.com
Happy Island Updates
Edit
'21/05/10 - New items added: Archipelago decorations and a new Bicycle stand' attraction available to those who sign up for email alerts.
Newest Items
Edit
Attractions :
Decorations :
Chess Rook (Black) - 2000 coins
Chess Rook (White) - 2000 coins
Bamboo Fence - 1,800 coins
Rope Cordon - 400 coins
Light Blue Flowers - 1,675 coins
Bush Lion - 2,200 coins
Pink Flower - 2 FBC
Land Cruiser - 3,400 coins
Half Caddy - 1,700 coins
Driven Aground - 2,600 coins
Ad blocker interference detected!
Wikia is a free-to-use site that makes money from advertising. We have a modified experience for viewers using ad blockers

Wikia is not accessible if you've made further modifications. Remove the custom ad blocker rule(s) and the page will load as expected.